Ever since I watched the first two seasons of Bravo's Blow-Out, I've wanted to try the Jonathan line of hair products.
A couple of months ago, I picked up a sample jar of Jonathan's Dirt at my local Sephora. It was the most popular product in Jonathan's product line and I was tempted to try my hand at the "day-after" look.
I really liked it. The smell was pleasant but not overpowering, and it really allowed more control and better styling without weighing down my hair.
I liked it so much that when my shampoo & conditioner ran out, I decided to turn to the Jonathan line again.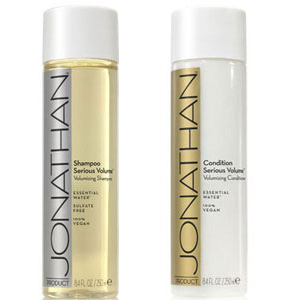 I quickly decided upon the Serious Volume shampoo and conditioner because my hair tends to go flat by the end of the day. I didn't expect much, because I've tried plenty of salon-quality products only to find that they weren't too different from drugstore brands.
But you know what? I loved them.
The shampoo smells like citrus & honey tea. I'm very sensitive about smell so I was pleased to find the scent to be light and not overwhelming.
The texture of the shampoo is unlike that of any other shampoos I've tried. It is a bit runnier than other shampoos right out of the bottle. However, once the stuff makes contact with your hair, it becomes thick and a bit sticky…like maple syrup. For this reason, you need to make sure that your hair is really wet before applying the shampoo.
After rinsing for the first time, I was in bit of a shock, because not only was my hair squeaky clean, it felt like wet straws. I thought to myself, "Great, that was a waste of money…."
…until I applied the conditioner.
I really do think that the shampoo and conditioner were formulated to work together, because as soon as I smoothed on the conditioner the straw-like texture went away and I was left with soft and clean hair.
And the smell! The conditioner smells like sweet pina colada. I couldn't help but keep sniffing my hair afterwards.
Jonathan's Serious Volume shampoo and conditioner really does add body to my hair without over-drying. My hair is left soft and bouncy…and smelling delicious, to boot.
I know it's not just me, because I discovered that J started using them too! He usually uses his own hair products, but this time he's been dipping into my supply.
Great products. I wholeheartedly recommend them. In fact, I'll be purchasing new bottles later today!
You may also like: