An hour-long TV special devoted to where a basketball player will play this coming season seems rather silly, doesn't it?
But you can bet that I, and millions more, will be watching.
Almost all sources point to LeBron having chosen Miami. There are even rumors that he's booked six cabanas that the W Hotel South Beach this weekend to celebrate his decision.
However, I still have hope that he'll choose New York. That he'll man up, take up the challenge and help bring the glory days of basketball back to the Big Apple.
Mike Lupica of The Daily News agrees:
So here is this moment, after nine lost years, all the losing nights and the bad basketball and the nights when the only reason you knew the Knicks were still in town was because a player like LeBron was in town.

And now it is going to come down to an announcement a half-hour from the city, and less than that from the Knicks' practice facility, that will feel like the Game 7 that began for the Knicks with Willis Reed limping out on the court once, and then Clyde Frazier playing the game of his life….

New York doesn't deserve him more than the other cities in the great free agent chase of July 2010. The owner of the Garden, James Dolan, doesn't deserve to win the player known as King James. But Knick fans do. The ones who were there through all the losing, the ones who kept coming because they remembered what the Garden was like when it was run by better people and had better teams and mattered — they deserve a chance to have LeBron come play for their team.
As I had stated earlier this week, Stoudemire's fat contract will all go to waste if we don't snatch up some more star players. There is still talk of Tony Parker joining the Knickerbockers, but the prospect now looks dim with talks of David Lee headed to Golden State instead of being part of a trade with the Spurs.
We have a Robin. We need a Batman to bring the Knicks back up to caliber.
Won't you please be our Batman, LeBron?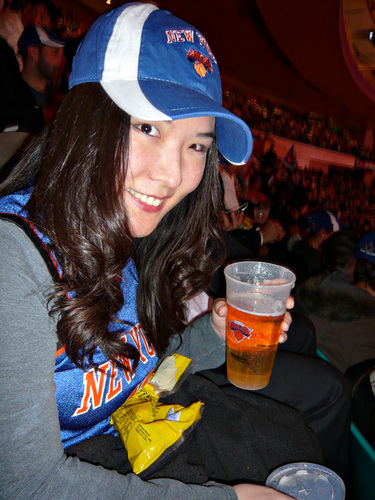 At the Knicks season opener last year. People always tell me
that I live in the wrong state for my preference in sports (hate
baseball, love basketball) but my heart still holds true to the Knicks!
You may also like: