Weight Loss:
Like my pregnancy with Claire, I had gained about 50 lbs with this pregnancy. I stepped on the scale for the first time this morning since my last OB appointment, and it looks like I've lost 25 lbs in the two weeks since giving birth. That leaves ~25 lbs left to go.
I'm not too worried about the weight loss as I had lost all 50 lbs in 3 months the first time around. I just wish I could speed it up a little, especially with the holidays coming up!
Boob Juice:
The first few weeks following the birth of Claire were a blur of marathon pumping sessions to increase my milk supply. In stark contrast, I am having no problems whatsover in the breastmilk department this time around.
In fact, I feel like I'm producing too much. Just one week after birth, I was already pumping more than 12 oz at a time! (And this is on top of nursing.)
Should I not pump as much — right now I'm pumping 2-3x a day — so that my supply will decrease? Or just keep up my current regimen until Aerin's appetite increases?
Boob Size:
On the subject of boobs, this is the one thing that bothers me the most: my humongous, gigantic breasts. Pre-pregnancy I was a large B or a small C — which I believe is already pretty large on my 5'1″ frame — and now that I'm breastfeeding, they have ballooned to DD's.
None of my clothes fit, none of my bras fit, and I just feel so unattractive and out-of-proportion. My breasts constantly get in the way, and I'm self-conscious all the time. Nevermind the back and shoulder pains from these added weights…
Will my breasts settle down a bit as I continue to breastfeed, or will they remain this size until I quit? (I honestly can't remember if my breasts decreased in size at all during the 3 months when I exclusively pumped for Claire.) I had been hoping to breastfeed for about 9 months to 1 year, but if they don't settle down a bit by 6 months I may just reconsider.
And while we're still talking about boobs, does anyone have recommendations for a good nursing bra for large chests? The ones I used with Claire — the Medela Comfort Nursing Bra — doesn't seem to be cutting it anymore as it seems too constricting. I hate spending more than $30 at a time on undergarments, but I bit the bullet and ordered the popular Bravado Body Silk Nursing Bra and am crossing my fingers that this will work out!
Bleeding:
Still bleeding quite a bit down there. Depends — or the drugstore brand equivalents of adult diapers — are my best friends.
The Baby:
Aerin continues to do very well. She eats like the world will come to an end tomorrow, she pees and poops regularly (she poops up to 10x a day!), and her scrawny little figure is finally starting to fill out.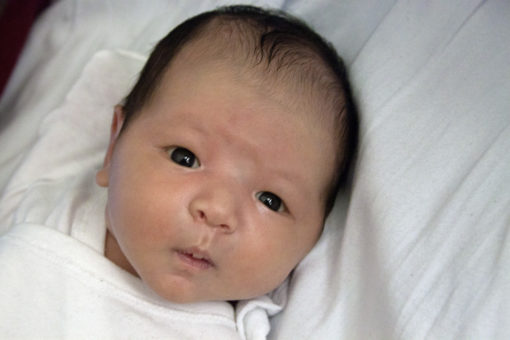 She is starting to get a double chin and chubby cheeks!
She has finally started to sleep in 2-3 hour stretches — hallelujah! — but still vastly prefers to be held at all times. As a result, for these first few weeks of her life we have been doing what we had sworn not to do: co-sleep at night.
(We never co-slept with Claire because we fed her from a bottle. But now that I have a baby who loves to nurse and often falls asleep while nursing, co-sleeping is so much easier!)
We're still not entirely sure what we'll do when Comang returns from my parents' house in a couple of weeks, as he likes to sleep on the bed with us. I know that the Arm's Reach Bassinet is an option, but I am reluctant to get another bassinet when we already have one. I guess that I will just have to do my best to transition her to the bassinet for her nighttime sleep (she sleeps in the bassinet during the day just fine).
It's funny how Claire and Aerin looked exactly alike when they were first born, because now, comparing their pictures at 2 weeks old, they look vastly different! Claire looks more Korean and Aerin more Chinese…J still doesn't see the resemblance, but I think she takes a lot after her father.
Claire Update:
And now, for a short update on our firstborn. Her fifth word is now official: baby. She will point to Aerin and say, "Beh-bee! Beh-bee!" She will even look for Aerin when she's not in sight and call out, "Beh-bee? Beh-bee?"
Claire also seems to be a lot more aware of other children and babies now. Before, she would just ignore them…but now, whenever she goes out and sees other mini-humans, she will try to interact with them, and even call out "Beh-bee!" to them too. We can only conclude that this change in behavior comes from having a new little sister. 
You may also like: