Have I mentioned lately just how much I love my geeky husband? As a former employee of the big G, he was one of the first in the public to get an invitation to Google+, and as soon as he was able to send invitations himself he passed it on to me. 
My first impressions of Google+? No, I do not think it is a "Facebook killer"…at least not for the time being. Even now, over a week after its launch, I think most people are still getting used to the idea of another social network and just how it could be fully utilized. (Even the Google+ team seems to not yet have a concrete plan on its capabilities.)
But this post is not a Google+ review. There already exists numerous reviews on the 'net, and if you are curious you can simply do a web search.
This post celebrates the images that have already gone viral in the Google+ world. So sit back, relax, and prepare to laugh (at least smile).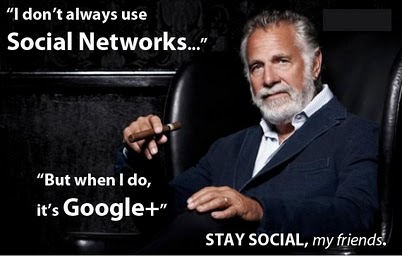 And, because this video is too good not to share with this list…
Immediately after watching this, both J and I created circles called "Circle of Trust." 
P.S. — When Google+ opened up its invites for a brief period last night, I posted it to the Geek in Heels Facebook Page and was able to get some readers invitations. Please add your name to the thread if you would like an invite also!
P.P.S. — There's still plenty of time to enter my Amazon Giftcard Giveaway! Head on over for a chance to win a $100, $50, or a $25 Amazon giftcard!