Being accepted as a blogger for Weddingbee has been one of the most rewarding experiences of my life. I have forged amazing friendships, learned a great deal about blogging (and being a better person in general), and have found a treasure trove of inspiration for all aspects of my life.
That being said, I sometimes get annoyed that the internet community only seems to see me as "Mrs. Peony from Weddingbee." Readers follow this blog, or subscribe to my Twitter, expecting to see wedding/crafts/DIY/newlywed updates…and leave when they see that this is not the case.
Then there are those who I know in real life, who see me as a wedding-obsessed freak just because I blogged for a wedding site.
I am sure my fellow Weddingbee bloggers can attest to these emotions, and I am thankful that I have a group of people who understand where I'm coming from.
However, I sometimes feel like the black sheep of the Weddingbee clan too. Okay, maybe not as extreme as a black sheep. Perhaps the term I'm looking for is "sticking out like a sore thumb."
I am not a fan of Etsy and I find Anthropology a bit too frilly. I have never bought anything from sample sale sites like Gilt Groupe or Rue La La (because even their discount prices are often too expensive for my tastes). In fact, I don't like shopping in general…even online shopping!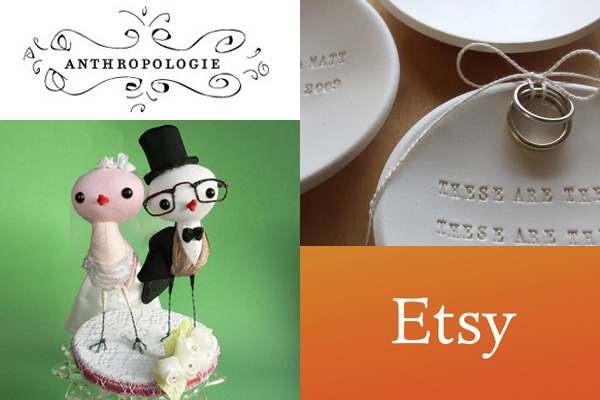 The object of many women's delights. Unfortunately, I am not one of those women.
My personal style tends to lean toward the minimal, with a preference for muted solids — no patterns or bright colors for me. My home is all beige, grey, brown and black (I just realized while typing this that even the dog fits into this muted palette!) with pops of red here and there. We don't have much decor in the house and the walls remain free of art or photos.
Even when planning my wedding, I kept a safe distance from the ever-so-popular bird cake toppers and Paloma's Nest bowls. They just seemed too cute and kitschy for my tastes, and there were even times when I questioned my style (or lack thereof). Is there something incredibly wrong with me?
I hate the outdoors. I prefer cash over other gifts. I have a vulgar and immature sense of humor. Most people find me a bit stand-offish, blunt, and socially awkward. I am nothing like the charming, well-mannered ladies of impeccable taste that comprise Weddingbee.
Sometimes I am glad that I applied to blog for Weddingbee back in 2007, when the site was just starting to gain popularity on the web. I'm pretty sure that my application would be rejected if I were to apply today.
---
ETA: I sat on this post for a few days before deciding to publish it, because I was afraid some of my fellow Weddingbee bloggers may find it offensive. Please know that this post is not an attack on your style and preferences at all — I am merely stating that my likes & dislikes seem so different from that of the majority of the Bees. I love you all. Really, I do. <3

You may also like: