Paramount's $15,000 horror flick Paranormal Activity may be the most successful movie ever to propel itself to phenom status via the use of social media and web interactivity.
Beginning with its humble origins, the movie urged fans to "Demand it!" to play at additional locations. The website promised that the film will open nationwide once 1,000,000 "demands" were hit.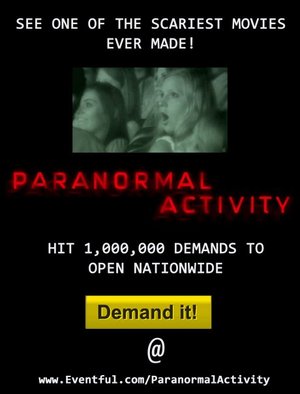 Social media widgets were easily visible and easily accessible on the website, encouraging and reminding each visitor to tweet, share on Facebook, email, and paste the URL of the site wherever possible. They even had available a snippet of code that can be used on MySpace, website, fan site or blog to help spread the word about the movie.
Belong long, Twitter users began to tweet their thoughts on the film, and the trend caught on. "Paranormal Activity" remains on the list of the top trending topics on Twitter, even to this day. (This is an actual screenshot of my Twitter page taken last night.)
Word spread like wildfire, and soon, Facebook boasted more than TWENTY-FIVE Paranormal Activity fanpages, the most popular which hosted more than 140,000 fans. More than twenty Paranormal Activity groups were created by enthusiasts worldwide.
Fanpages advertised screening parties, and marketers of the movie took it an extra step further by posting messages such as this:
Moderators also urged fans to upload reaction videos and photos to these fanpages, spurring even more interactivity and creating more content for visitors to enjoy.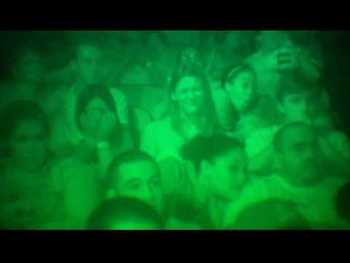 And before the buzz starts to wane, the marketers behind Paranormal Activity has decided to look to the next step: DVD and Blu-Ray sales!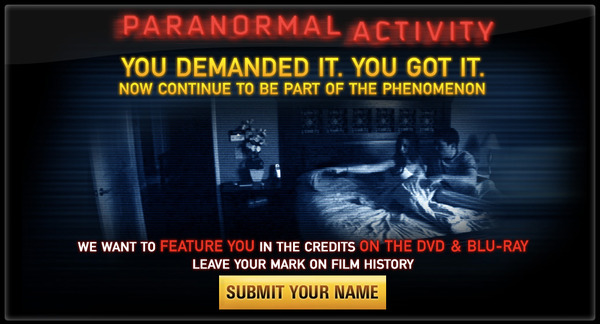 That's right — if you visit the movie's website, you can submit your name to be included into the "special thanks" section of the credits for the film as a thank you for making it such a success. You'll get to see your name scroll across the screen once the DVD and Blu-Ray disc comes out.
Will this gimmick work? Well it did for me — I signed myself up immediately!
Have you watched Paranormal Activity? What did you think of it? Do you think it lived up to its internet hype?
You may also like: