Remember how earlier this year, we canceled cable in addition to our land line?
Since then, our cable company has been trying its darndest to win back our subscriptions.
When we first moved into our home, we had signed up for their Triple Play package, which included cable, internet, and phone for about $100/month for the first year.
After the first year was up, our bill went up to about $160/month, which we had continued to pay faithfully until we canceled cable and phone.
Now, we are paying about $50/month for just the high-speed internet.
The first few months after we had canceled cable and phone, we regularly received notices that they would reinstate the $100/month promotional price for a year.
Four months ago, that price went down to $90/month for a year.
Three months ago: $80/month for a year.
Two months ago: $70/month for a year.
Last month: $70/month for two years.
And this month?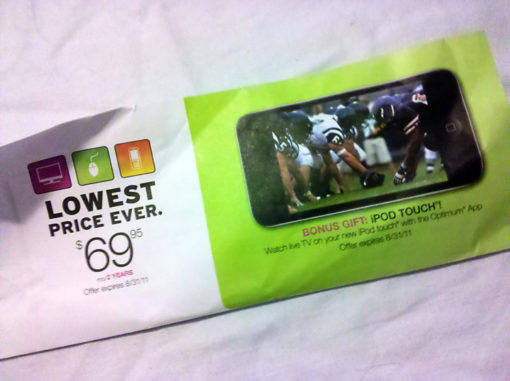 A snapshot of the flyer we received in the mail…after Claire got to it
In case you can't make out what it says (you probably can't, as it was taken with my crappy phone camera): $70/month for two years, plus a free DVR rental for a year, plus a free iPod Touch!
😯
Now, I have no idea if the iPod Touch is an older model, but seeing as the lowest-end iPod Touch currently retails for $229, I'm pretty tempted.
Nevermind the fact that we would only be paying $20 more (or $30 after taxes) a month for two additional services.
And as much as I love our cable-free life, there are some shows whose networks have not caught up to the 21st century and do not air full episodes online. Yes, I am sorely missing my guilty pleasure, aka the only reality show I enjoy: Keeping Up with the Kardashians.
What do you think? Should we go for it?
Should we wait until next month and see what else they would offer? 😛
---
P.S. — Stay tuned for a giveaway tomorrow!
You may also like: