I envy women who can look "dewy" and "refreshed" during the hot, humid days of summer. Not only does my combination skin kick up its sebum production into overdrive, I tend to sweat…a lot. (Attractive, I know.) So while my normal routine may work just fine during other seasons, I have needed a tad bit more help in the past couple of months.
The first product I have introduced to my makeup routine is the Hourglass Mineral Veil Primer.
I have stated in the past that I do not use a primer under the Giorgio Armani Maestro Foundation because the few times I tried a primer — the Smashbox Photo Finish — my skin didn't seem to soak up the Mastro as well.
But I was curious about the Hourglass Mineral Veil because it has replaced Smashbox as THE go-to primer for many makeup artists and gurus since its launch. So I obtained a sample during my next visit to Sephora (they give really generous samples).
And I got hooked.
My skin feels so soft and the texture so even after using this primer. Unlike the Smashbox, which feels like it creates a new layer above your skin, the Hourglass Mineral Veil seems to sink into the skin while filling up any imperfections like large pores. As a result, applying the Maestro becomes easier, and the foundation really lasts longer!
The Hourglass Mineral Veil Primer is available at Sephora for $52. Expensive, I know! But totes worth the price, IMO…and you only need a little bit at a time!
Next up is the Laura Mercier Mineral Pressed Powder.
I was never a big fan of Laura Mercier products despite the cult-like following of its Tinted Moisturizer. However, when I was walking around Sephora one day trying on random products (I was on a very rare visit to the mall by myself), I decided to give this a go because I'm a sucker for good-quality, minimalist package design.
Fast-forward many hours. I was about to wash my face for the night when I noticed that my nose — where I had tried the Mineral Pressed Powder — was noticeably less shiny than the rest of my face (I had tried other powders on other parts of my face). I immediately ran to J to confirm, and he agreed.
Take a look at its reviews on Sephora.com — you can see, via the keyword filter section, that "reduces shine" and "oil-absorbing" are two of the most common phrases used in the reviews! I even tested the powder myself by taking a long, hot bath with whilst wearing it — despite all the sweating and occasional water splashes (and towel pats for those splashes), my makeup still looked fresh afterwards!
For me, this powder doesn't work too well if you just dab it on with a sponge. I really need to set it into my skin using a kabuki brush or the sponge that comes with it to get the desired effect.
And since I already have the Maestro to provide overall coverage, I only apply the Mineral Pressed Powder on my t-zone in the afternoon, when I start to look shiny and greasy. This will last me until bedtime, playing outside in the heat with the girls or doing labor-intensive chores be damned!
The last item I want to share is not exactly a summer-proofing product; I consider it to be in the damage-repair category, and it is the Murad Rapid Age Spot and Pigment Lightening Serum.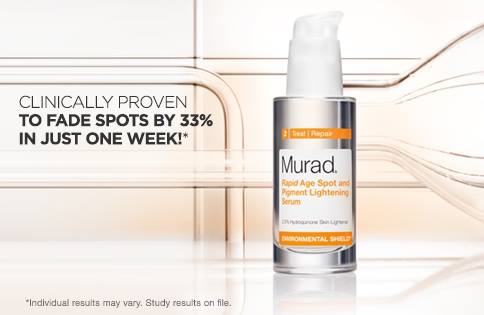 I was pretty bad about applying sunscreen last summer and picked up a bunch of new freckles as a result. I have grown to embrace my freckles over the years (and J loves them — he thinks they're cute!), but these new ones were dark and just not to my taste.
I didn't want to erase all my freckles, but I was hoping to get rid of the newer ones, or at least lighten them.
After a web search, I discovered that this serum is one of the few, over-the-counter items that many reviewers have found to lighten their freckles and age spots. So I obtained a generous sample from Sephora and applied it every night after washing my face.
I didn't notice too much of a difference after one week. However, I thought my freckles had gotten just a bit lighter, so I got another sample to see if an additional week would make a difference. (I was not yet ready to make the $60 investment for a 1 oz bottle).
It turns out that 2 weeks was what my skin needed. My freckles have gotten significantly lighter — enough so to make J exclaim, "They better not all get erased!", and have my mother, who didn't know that I was using this treatment, comment on my skin looking clearer too.
Because the serum works on newer spots first (they say that older spots are harder to erase), I feel safe knowing that not all my freckles will fade away. Once I'm done with this bottle, I will stop using the serum and be extra careful about sun protection in the future!
Oh, and one more thing. I discovered recently that you can buy the Murad Rapid Age Spot and Pigment Lightening Serum for much cheaper through Amazon — $38 versus Sephora's $60!
You may also like: