This morning, I received my first traffic violation ticket in over a decade.
I was at a busy intersection (corner of W. 42nd and 8th Ave) and attempting to make a left turn onto 8th Ave. The traffic signal with a left arrow turned green, so I slowly started to make the turn, but stopped as there were still pedestrians crossing the street. I waited until all the pedestrians had passed, then finished making the turn.
I was then immediately pulled over and given a ticket for "failure to yield to pedestrians."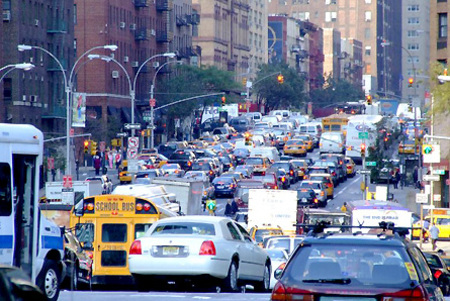 The cops had obviously set up a trap at this location, because three other cars got pulled over for the same reason at the time. And in the time that I was waiting for the ticket to be issued, I witnessed at least 10 other cars doing EXACTLY what I had done, or worse (pulling deep into the middle of the pedestrian walkway) and getting off without a glance.
I would like to contest this ticket as I did not block any pedestrians, or ignore them, or drove on through. I waited until everyone had passed before continuing to make the turn. I did not do anything worse than what all NYC drivers do, and I certainly did not hurt anyone.
However, I realize that the law is not on my side as the judge is more likely to take the officer's word over mine. In addition, my understanding is that the officer has THREE chances to appear in court so I may need to show up in court three different times, which I am reluctant to do as I've heard many stories of people waiting for hours on end in traffic court with no success.
This violation is a 3-point violation, which will most certainly jack up my insurance rates. I would also need to pay a fine of $160.
Should I contest this ticket?
I contacted a traffic violation attorney to see what my options are. For $300, they will file all the necessary paperwork and make all appearances in court on my behalf. I do not even need to meet with them — we can do everything over email, phone, and regular mail.
I asked what their success rate is for the dismissal of traffic violation tickets, and they answered 65-75%.
J thinks that the $300 is worth it, especially considering the increase in insurance costs over the years. As for me, I'm a bit reluctant because it's a lot of money for something that I can do myself. I may not necessarily do it better, but it's still doable.
Would you hire an attorney?
On a more personal note, SCREW YOU, NYC.
I know that the city is strapped for cash. But purposely setting up traps like this — on a crowded street during rush hour, no less — is just bad form. They blocked off TWO lanes for this trap, further aggravating rush hour traffic and inconveniencing motorists and pedestrians alike.
Find other ways of raising money. Traffic tickets are fine when warranted. Not when it's for something that happens in NYC on every corner, every hour of each day.
You may also like: