If you're a beauty junkie like me, I'm sure you've heard of the new "it" foundation: the Yves Saint Laurent Fusion Ink Foundation (otherwise known as Le Teint Encre de Peau).
The YSL Fusion Ink is the latest in the liquid-to-powder-finish foundation trend that started with the Giorgio Armani Maestro Fusion Makeup and expanded to the L'Oréal Magic Nude Liquid Powder (aka Nude Magique Eau de Teint), the Maybelline Dream Wonder Foundation, and the Lancôme Nude Miracle (aka Miracle Air de Teint).
(It's no surprise that all four brands are owned by L'Oréal. I assume that with the success of the Maestro, L'Oréal wanted to monetize the product further through its brands with minor variations in formula at different price points. However, IMHO, they are not dupes and they are not the same. More on this at the end of the post.)
I have read wonderful things about the YSL Fusion Ink Foundation. That it was developed with NASA-inspired technology. That it garnered a waiting list of over 12,000 in the U.K. That it is longer lasting and better than the Giorgio Armani Maestro.
At $60 for a 0.84oz of product, the Fusion Ink is definitely an investment. As such, I decided to try it out before splurging on a bottle. Luckily, my local Sephora is very generous with samples and I was able to obtain a jar in BD15, or Warm Buff.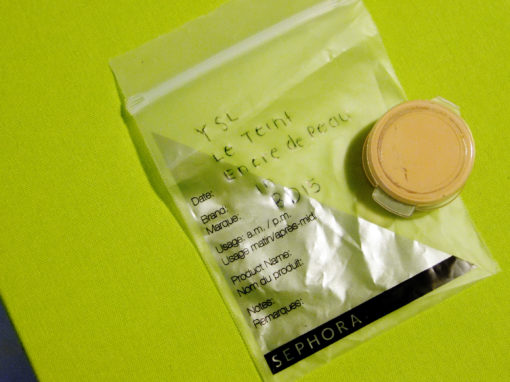 So is it worth the hype?
Perhaps. It depends on what your preferences may be.
Allow me to explain.
I have found that the Fusion Ink is a bit longer-lasting than the Maestro, with a slightly more matte finish. And like the Maestro, it feels wonderful on the skin and does not look cakey even through multiple layers.
However, I felt that it was less pigmented than the Maestro (i.e., I needed to use more of the product to get the same coverage). Additionally, it has the signature YSL flowery scent. It's not a bad scent, and completely dissipates in about 30 minutes, but I prefer my makeup unscented.
It still looks pretty great, wouldn't you say?
Products worn:
So again, in the battle between the YSL Fusion Ink and the Giorgio Armani Maestro, it really depends on what your preferences are:
longevity + matte finish + flowery scent
vs
more pigment + dewy finish + unscented
And to this blogger, the Giorgio Armani is a better fit. 🙂
So how do the other L'Oréal foundations mentioned above compare?

When the L'Oréal Magic Nude first came out and bloggers everywhere lauded it as a much cheaper dupe for the Giorgio Armani, I couldn't wait to get my hands on it! However, I found the formula to be less satisfactory — it was less pigmented and a bit more drying. I also had trouble finding a good shade match (most of the shades were pink-based), and then there was the problem of the packaging: a heavy glass bottle with just a regular screw top? I much preferred the Maestro's dropper.
The Maybelline Dream Wonder is another drugstore option, and most bloggers seem to prefer it over the Magic Nude. Its packaging is more friendly too — attached to the cap is a plastic tear-shaped applicator, similar to the YSL Fusion Ink's quill applicator. That being said, I found it thinner and not as long-lasting as the Maestro. 🙁  
I actually haven't tried the Lancôme Nude Miracle save for a test application on my hand and chin at Sephora. While I love the dropper bottle design, it is the least pigmented of the group. A great choice for those wanting light coverage, to be sure, but not for me.
And you know how I feel about the YSL Fusion Ink. 🙂
So for now, the Giorgio Armani Maestro Fusion Makeup remains my favorite. Yes, it's expensive at $64 an ounce. But each bottle has lasted me anywhere from 4-6 months, even with almost-daily use!
I hope you've found this review and the comparisons helpful! Please let me know if you have any questions, and I'll do my best to answer.  😎 
You may also like: