My mother "invented" this dish one night and it has since become one of my favorites to make on lazy summer evenings. The best part? It is so easy that anyone can make it.

Ingredients:
thinly sliced beef, sukiyaki-style
mushrooms (I used king oyster, portobello, shiitake, and enoki mushrooms in this example but feel free to use your favorites)
soy sauce
wasabi

Instructions:
Wash and tear/chop all mushrooms into bite-sized pieces. Throw them into a pan and sautee on medium heat. (You may want to wait a couple of minutes to include the smaller mushrooms, like enoki, so that they don't become too soggy.)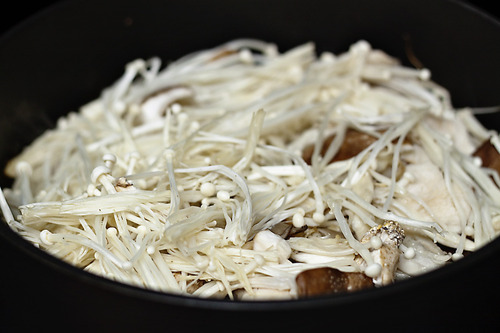 There is no need to add any oils — the natural juices from the mushrooms will suffice.
As the mushrooms are cooking, prepare to add your beef. I bought these packages of sukiyaki-style beef from our local Asian market. If you don't have an Asian market nearby, just ask your butcher for the tender part of beef in very thin slices.
Just as the largest pieces of the mushroom are just starting to get soft, throw in the beef. Continue to sautee everything on medium heat.
Again, you do not need to add anything — the natural juices from the beef and the mushrooms will prevent the ingredients from sticking to the pan. If you wish, you can add a tablespoon or two of soy sauce, but it is not necessary.
When the beef becomes brown, you are done! Turn off the heat and transfer onto a serving plate.
Serve the dish with a side of sushi-style soy sauce and wasabi. In other words, mix the soy sauce and wasabi in a small bowl just as you would when eating sushi. Dip the beef and mushroom into the sauce before eating, exactly as you would with sushi.
Total preparation time is about 15 minutes. And I guarantee that the end result is delicious!
You may also like: