Today's guest post comes from Lauren of Oh Lordy! Here, she writes about the changes in interests in shopping and internet research that seem to correspond to different stages in life, and I couldn't agree more! I still remember spending hours and hours looking for the perfect bag online…now that's been replaced with researching the perfect high chair, age-appropriate toys, and so forth.
Have your shopping and internet research styles changed over the years? If so, please leave a comment below, and be sure to check out Lauren's blog for similar life musings, as well as some delicious yet simple recipes!
---
Any other fans of the movie Don't Tell Mom The Babysitter's Dead? I always find myself quoting that movie, especially with my brother. Love it!
Not surprisingly, as my current stage in life changes so do my interests in shopping and internet research. Prior to getting engaged I was all about travel research. When we were planning our wedding it was numerous stops to Michael's for paper products. Now that we're saving for our house I find myself reading up on home renovations, watching HGTV and browsing the listings on realtor.com and trulia.com.
The other weekend my parents told me they were going to be in my area looking at new appliances so I decided to join them. Before, I would have had no interest in spending hours looking at dishwashers and refrigerators, but I was actually excited to see what is out there and make wish lists for the future.
We headed over to the Sears scratch and dent outlet where they had amazing deals on practically new appliances (some were never used and returned because they did not fit in the customer's kitchen). Honestly, there were some that looked like they had been through a hail storm with the amount of dents. On the other hand, there were several that only had scratches on the back side which would never be seen. Mom & Dad fell in love with a dishwasher (the original reason for the excursion) and a new fridge (a splurge that they couldn't pass up).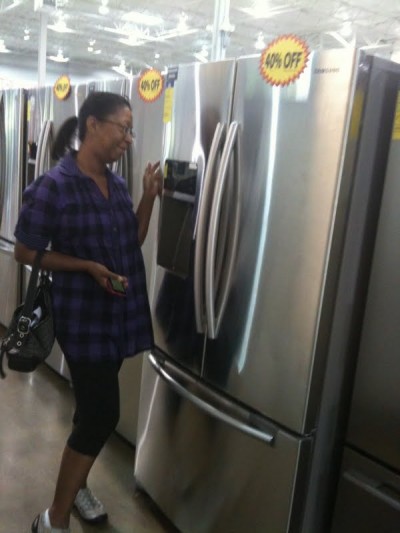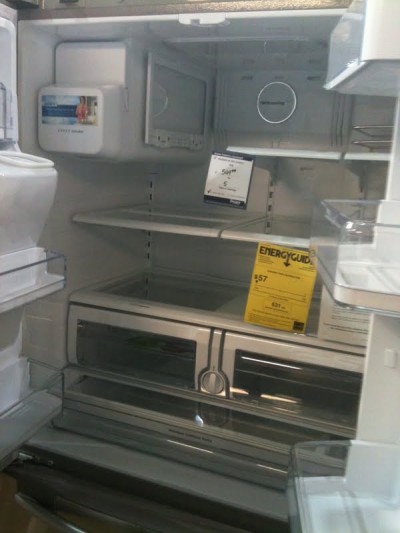 Of course, things always seem to come with a story in my family. The appliances were delivered and they hooked up everything. Then mom noticed it wasn't their fridge! The outside looked exactly the same, but some of the additional slide out shelves (you can see them in the top right corner of the picture above) were not there.
Mom did some more research and found that this fridge was for a Clara Williams instead of my dad (whose first name is William). After a couple of calls and another day of delivery they finally had the fridge that they picked out, only to find out that it was dipping in the back because it was missing wheels.
Well long story short, Sears customer service really came through. They delivered a brand spanking new refrigerator to my parents home.
Do you find that your shopping and internet searches change as you enter new stages in your life?
---
About the Author:
Hi!  My name is Lauren and I caught the blogging bug when I documented our wedding journey on Weddingbee as Mrs. Elephant.  Now I'm blogging about married life, travel, cooking and our future house search over at Oh Lordy!
You may also like: