As a testament to how uncomfortable I was in the weeks leading up to the birth of my second child, I felt as light as a feather and wanted to do cartwheels down the maternity ward just hours after delivery.
Even day two, when I felt my worst, was far better than my last month of pregnancy.
This is not to say that I'm feeling wonderful at the moment. I am still bleeding profusely, I have Shrek feet, and it hurts to get up and down and walk around. But this recovery seems to be a lot easier than the one I experienced with Claire.
Aerin, on the other hand…
Now, don't get me wrong. She is perfectly healthy and we can't help but be amazed whenever we stare at her little face and body. But if these first few days are any indication of things to come, we are in for one hell of a ride.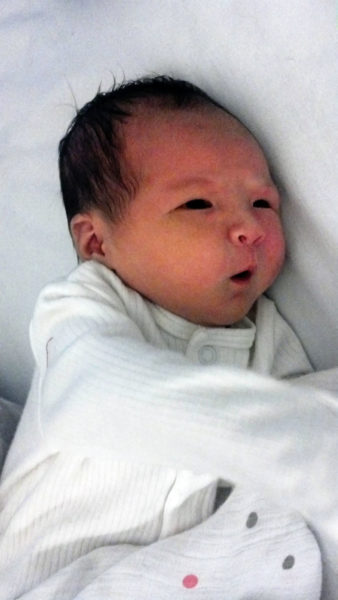 After my breastfeeding experience with Claire, I had been hoping and praying that Aerin would be a good nurser. Well, I should have been careful what I wished for, because not only is Aerin an excellent nurser (she latched on right away and has a very strong suck…I can't remember Claire ever sucking this hard), she wants to nurse ALL THE TIME.
Like, every hour since she was born.
It's not that I'm not producing enough breastmilk either — my milk came in on day 3 from our marathon nursing sessions.
Aerin is just a very hungry baby. Even the night nurse at our hospital got annoyed, because I overheard her telling another nurse as they switched shifts, "And this baby literally wants to eat every hour on the hour!"
I know that breastfeeding is not supposed to hurt if done correctly. But having a baby suck on your nipples for up to 45 minutes at a time, only to start again after a short 15 minute break, is leaving my nipples raw and sore, and this mommy simply worn out…I am patiently waiting for the day when my body will get adjusted to this new regimen.
Aerin also seems to be a poor sleeper. From the moment of birth, the longest stretch of sleep she has gotten is 30 minutes. And she will not sleep by herself either — she has to be held in order to sleep.
Additionally, my little girl is still at the point where she is most comforted by the smell and sounds of her mother. As such, no one else can calm her down — only I can.
Needless to say, I am exhausted. 🙁 I can only pray that things will get better soon.
I hope this post doesn't come off as whiny; it is intended to give you an update on our new life. And an explanation as to why I may be MIA for the next days/weeks/months.
You may also like: