A few weeks ago, Aerin had her 6-month evaluation by the state's early intervention services.
To be completely fair, it hasn't been 6 months since we started therapy — it had taken a month to find our therapists, and we had missed a lot of sessions in the months of December and January due to all the crazy stuff that was going on in our household. So when we finally held the review, we had just started to have regular sessions again.
For this reason, I believe that Aerin could have done a lot better at her evaluation. Nonetheless, I was satisfied with the results, which is that we will continue the current schedule of therapy (developmental intervention 2x a week, speech therapy 2x a month), except with a new developmental interventionist.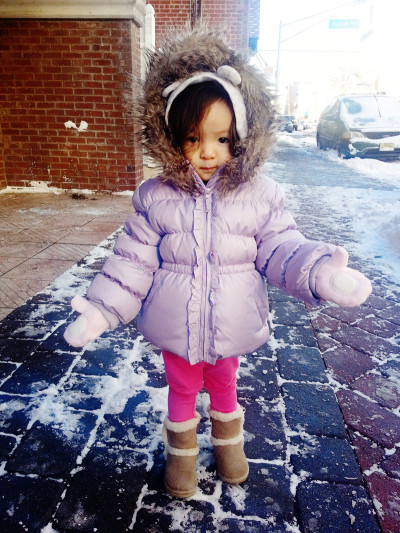 Both of Aerin's therapists agree that she has made tremendous strides. I have lost count of the number of words she says a long time ago (I never paid too much attention to the exact number for either girls), but she is comfortable with simple 2-word sentences and has started to say 3-word sentences. She knows her alphabet and has been identifying both letters and numbers for a couple of months now. She knows her colors, body parts, animals, and everyday objects, and is quite a singer. 🙂
That being said, she's not a very chatty person. It's obvious to everyone in her life that she understands practically everything she hears — she just doesn't like to, or prefers not to talk much.
The reason we have decided to change to another developmental interventionist is due to her stubborn personality (and a good, stern DI may help her more in the long run). Although it is obvious that she is a very bright child — both therapists frequently tell me that there are concepts and activities she grasps that are a year or two ahead of her peers — sometimes she just flat-out refuses to do what is instructed.
A good example of this happened a couple of weeks ago, when her therapist wouldn't let her do something she liked. She immediately clammed up and refused to cooperate any further. The therapist brought out a bucket of Mr. Potatoheads (one of her favorite activities) in an effort to win her back, and it seemed to have worked…at first. But when the therapist asked, "Aerin, can you give me the mouth?" she handed over every part, one by one, except the three mouth pieces. It was quite comical, actually, to see this passive rebellion at such a young age — although I may regret saying this later down the road!
Another reason we had collectively agreed to continue with the current line of therapy is because Aerin will be turning 3 in November. Our state has a separate set of criteria for early intervention starting at this age, and both our therapists are confident that she will not qualify for these services (she's now only slightly behind her peers). So we want to milk the therapy sessions as much as we can in the next few months; while the sessions are expensive ($200-$300 a month), they are still partially subsidized by the state and have been tremendously helpful. Not only to Aerin but to me as well — I've been learning so much about childhood development, how to deal with undesirable behavior patterns, and how to most effectively talk to young children.
I only wish I had learned this stuff before I had kids! 
We're still in the process of finding a new DI. We love our current DI and have developed a good relationship with her, but she is a speech therapist who does DI occasionally, and she believes a strong DI who is a trained child behaviorist will be more beneficial for Aerin.
Additionally, we all believe that her progress will accelerate even more when she enters preschool in the fall. We're thinking of enrolling both girls in Claire's school's "summer camp" program (which has a bit less academic learning and more outdoor activities) for a few weeks so that the transition will be easier on her.
To be continued…
You may also like: