Are you one of those people who likes to get decked out when you're not feeling well (emotionally or physically)?
I know that I am, along with many of my girlfriends. Improving how I look on the outside really helps me feel better, whether I am recovering from a cold, having a woe-is-me moment, or even suffering from a raging hangover. 😉
This past year, being the primary caretaker of two kids — and thus often being afflicted with fatigue, frustration, and weariness — I have found myself putting on makeup more often than not.
And I've gotten pretty good at doing it quickly and efficiently, the whole routine within just 3 minutes. What's more, the products I use have been tested by yours truly to last the entire day, so this routine is ideal for anyone who's short on time, lazy, or both, like me. 😛
First, the before-and-after shots, so you can see the difference:
Before I start slapping any makeup on my face, I cleanse with Shiseido Pureness Deep Cleansing Foam and moisturize with Philosophy Hope in a Jar. Just recently, I have also started to dab some Philosophy Total Matteness Mattifying Pore Eraser serum on my t-zone after moisturizing, and I love it! It's been savior for my combination skin as the heat and humidity continues to rise. 🙂
(You will see that most of the products mentioned in this post were listed among my fav beauty products last year. And OOPS! I had forgotten to factor in the cleansing and moisturizing part of the routine in the total time — they would add another minute or two.)
Now, let's go on to the makeup. First up is my HG foundation: the Giorgio Armani Maestro Foundation. (And yes, I'm still using the same bottle I bought in September last year!) Numerous people have asked me if I apply primer before applying the Maestro, and my answer is no. The couple of times I tried using the Smashbox Photo Finish Primer, my skin didn't seem to absorb the foundation as well. I've also found that applying the Maestro with my fingers is far superior to using a foundation brush.
Next, I fill in my eyebrows and use an eyebrow brush to smooth them out. I know I have thick eyebrows to start with, but I prefer the look of darker, neater brows. I don't use a brow pencil — pencil eyeliners with long-lasting formulas work better for me. (I think the one I'm using right now is the Revlon Colorstay Eyeliner in Black Brown.)
I then use my La Mer The Powder Brush, while it's still retracted so that the brush is denser, and pat some La Mer The Powder over my eyelids and undereye area. I do this in lieu of an eyelid primer and a concealer — it's much faster and works almost as well.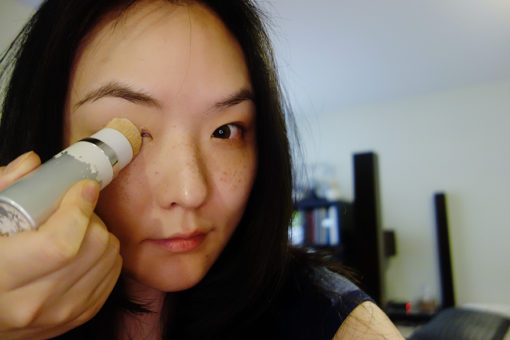 The brush is so old that the casing is peeling. I'll need to get a new one when I get a new jar of powder.
This next step is the most time-consuming part, but I've gotten so good at it that it only takes a minute for me. I take my MAC 266 Brush and carefully dab it along the bottom part of the MAC Liquidast Eyeliner applicator brush, nearest to the handle. (This is where the "goopy" part of the eyeliner resides.) I then draw a line along the top AND bottom lash lines of ONE eye.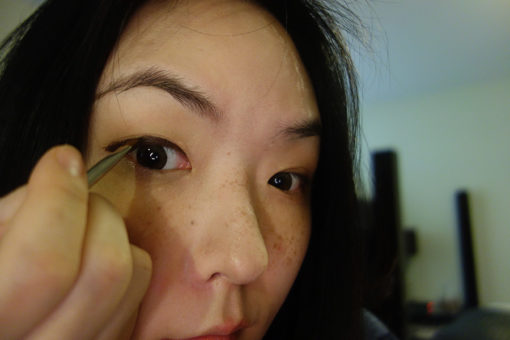 I blot SOME of the excess with a cotton swab.
Then QUICKLY, before everything dries, I take an old angled brush (I bought it when I was in high school, so I don't even know what brand it is. All I remember is that I got it from a drugstore.) and use it to blend the edges so it creates a slightly smudged effect.
Repeat with the other eye.
Next, I apply the CoverGirl Outlast All-Day Lipcolor in Canyon. It almost looks garishly orange in the tube, but it's a nice brownish-pink color on me.
SMILE for the blush! I'm not too particular on cheek color. The blush I'm using now is about six years old; it's the Giorgio Armani Sheer Blush in Light Rose. While it's a very nice blush, it's nothing spectacular — it's an expensive purchase I let a salesperson talk me into. However, I do LOVE the Face Brush I bought with it. (It's the one in the picture, and it's the best blush brush I've ever tried.)
In the picture below, I've only applied makeup to the right half of my face, so you can more clearly see the difference. Polished, yet natural, right?
I then spritz on some Urban Decay All-Nighter. (For the purposes of the final picture, I applied makeup to the other half of my face too.)
And set everything in place with the La Mer The Powder (this time, with the brush fully extended):
Finally, a dab of some Smith's Minted Rose Balm.
That may seem like a lot of steps, but everything seriously takes me just 3 minutes! Here's the final product:
If I have more time, I will add eyelid primer, eyeshadow, mascara, and bronzer.
And if I have less? I'll substitute Benefit's Hello Flawless! for the Maestro foundation, and forgo the liquid eyeliner for just the Revlon Colorstay liner. This way, I can have everything done in just a minute!
Once again, the before-and-after:
I know — primping oneself is a luxury for most mothers. But doing my makeup every morning helps me remember that I still have some semblance of control over my hectic life. Even if I'm feeling like I'm about to go batshit crazy from my hysterically-crying daughters, crayon-covered furniture and the cyclone of toys overtaking the entire house, I can at least look like I have it all together as I'm pushing the girls in the double stroller, hair carefully tousled and my face made up…right? 🙂
You may also like: