I'm on day 4 of (what I believe to be) a bad case of food poisoning. My poor tummy. My poor plumbing system. My poor family.
Anyway, because today is the first day since last week where I felt semi-human yet still suffering a bit (and out of blogspiration) — and because so many of you seem to like my beauty recommendations, I wanted to share with you my holiday sales (all the Black Friday, Cyber Monday, and numerous F&F sales) – slash – birthday present to myself haul!
I've been using the Laneige BB Cushion Pore Control ever since I ran out of the Innisfree Long Wear Cushion. (My thoughts after trying both? The Laneige cushion provides a marvelous finish that is a bit more radiant than the Innisfree cushion. However, the Innisfree has more coverage and better lasting power. And although the Laneige cushion is almost twice the price of the Innisfree one, the Laneige cushion comes with an extra refill, which evens out the price, IMO. Also, the Laneige packaging is so much prettier and more luxurious.)
I was just about to replace the Laneige cushion with the included refill when I read about the Banila Co It Radiant CC Melting Foundation. A product that's similar to cushion compacts but with more coverage? I was sold, and patiently waited until Soko Glam's Black Friday/Cyber Monday sale to pick one up for myself.
And you guys. This stuff is uh-mazing. Seriously. If I had one complaint about cushion pacts, it would have been their poor staying power. (But then again, they're meant to be re-applied multiple times throughout the day.) But this Melting Foundation has about the same longevity as a regular foundation, layers beautifully, and is just so easy to use. In fact, it has become my go-to product when I do not have the time, or is too lazy, to use a full foundation. And it's perfect to carry around to for use as touchups.
I had heard some great things about Skinfood's Black Sugar Mask, and how it's supposed to be a great dupe for the popular $58 Fresh Sugar Face Polish, at a fraction of the price!
This strawberry version was released earlier this year as a gentler alternative to the Black Sugar Mask. I had read that it performs just as well with a scent that is TDF, so I decided to go it a try since I currently have no exfoliating system in place.
After trying the product for myself, I can definitely say that the smell is a hit-or-miss. Meaning, it smells — and looks! — exactly like strawberry preserves! Including the strawberry seeds! So while many people will love the scent (it seriously tempts you to taste it), I didn't particularly like it because I'm very particular about scents in my beauty products.
(I should add that J makes fun of me whenever I use this scrub. "Why don't you just slather some strawberry jam on your face?" I try to explain to him that it has other beneficial stuff in it than just strawberry and sugar, but he just smirks.  🙄 )
Despite the smell, I LOVE how this mask makes my skin feel. You can see an immediate difference in your skin texture as soon as you wash it off — it never fails to leave my skin baby soft, smooth, and supple. It has definitely become a weekly staple in my skincare routine.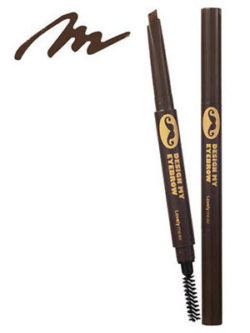 I only decided to pick up this product in order to quality for free shipping…and I was pleasantly surprised!
The coverage on this eyebrow pencil is buildable, and it comes in 4 shades: brown, dark brown, black brown, and dark gray. It even comes with a spoolie on the other end to help soften your brows for a more natural look.
However, my favorite part of this eyebrow pencil is its shape: it is angled! (For a close-up of the tip, see here and here.) I don't know if there are other eyebrow pencils that have a similar shape, but this little detail was mind-blowing to me.  😳  It just makes the application so much easier and precise!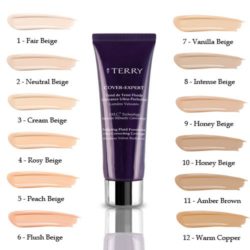 I have read so many great things about the Cover-Expert foundation from By Terry. (Have you heard of By Terry? It's a fairly-new cosmetics line from Terry de Gunzburg, the mastermind behind the iconic YSL Touche Éclat.) So when Beauty.com was having their F&F sale, I snapped up a bottle in #7 Vanilla Beige.
The verdict: I like it almost as much as the Giorgio Armani Maestro. Actually, strike that. I love them both for different reasons. The Maestro's finish is unparalleled — I have yet to find another foundation that literally feels like I have nothing on my face, and even seems to enhance the texture of my skin. However, the By Terry Cover-Expert provides more coverage, is easier to build, and lasts longer than any other foundation I've ever tried.
Both foundations do have their caveats. The Maestro is not very travel-friendly (I usually wrap it in cling wrap and even then, it has sometimes leaked), while the Cover-Expert has a tendency to pool into the cap (I store it upside-down for this reason). However, this foundation junkie can confidently say that these two are my favorite foundations. I now have them both on rotation, using the Maestro for days when I want a more natural, glowing finish, and the Cover-Expert on days when I want a more polished, longer-lasting look.
I should add one thing about the color: I'm not sure if this is an issue with just my shade (#7, see Beauty Professor for swatches of all the shades) or all of them, but upon initial application, the Cover-Expert has a teensy bit of a gray undertone, similar to my favorite BB cream, the Missha M Perfect Cover. But like the Missha, the color quickly adjusts itself to match my natural skintone.
That's it for this mini beauty haul! As usual, please let me know if you have any questions about these products. And stay tuned for another giveaway in the near future, featuring more goodies from Shiseido! (A teaser: it features items that are not even in stores yet!)
I now end this post with yet another omg-I-can't-believe-how-old-I-am-now whine. My 34th birthday was quiet but enjoyable, and despite my stomach issues, I insisted on going to a seafood place for dinner. I was craving shellfish and beer, and I was going to have them, doggone it! Look how sick and tired (but happy!) I look!
You may also like: