Last Friday a friend and I had planned to have lunch at BonChon Chicken. However, upon arrival, we were disappointed to see that they weren't yet open for the day. Walking around K-Town for an alternate restaurant, I noticed Pho32 & Shabu: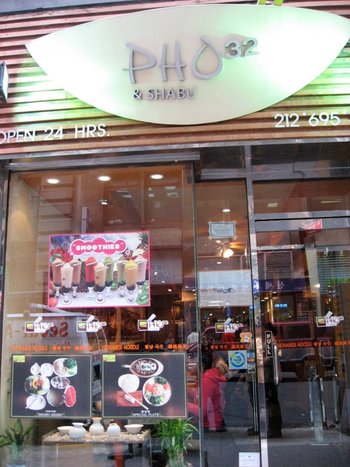 It's a tiny place on 32nd St, and we wondered why we hadn't noticed it before (did it open just recently?). The decor was cute, and each table had two round heated openings for the shabu-shabu pots. I was in the mood for some pho but we ended up going for the "Land and Sea" (combination of beef and seafood) shabu-shabu instead.
Yummy….my mouth's watering just looking back at this picture. Needless to say, the food was great. The majority of people were eating pho so I assume their pho isn't too bad either. We were very lucky to have arrive just as the lunch rush hour was starting – we only waited 5 minutes. However, those who arrived after us waited up to 30 minutes.
The bill came out to a little over $30 for the "Land and Sea" shabu-shabu and extra sides, which was perfect for two people. I highly recommend this restaurant. And since they're open 24 hours, it wouldn't be a bad idea to visit after a night out on the town.
You may also like: