It's funny, because although Google Analytics tells me that the majority of my visitors are male, I get tons more comments from the fairer sex. (I guess commenting on blog posts is a form of social media, in which women are more likely to engage?)
And I always get positive feedback on my beauty posts.
So I've decided to cater to the more vocal readers of this blog by sharing with y'all some new — well, at least to me — beauty products I've been digging lately.
The best part? Two of the three are "dupes," or less expensive versions of high-end products. In fact, they have actually REPLACED former HG products of mine!
First up is the Milani Infinite Liquid Eyeliner. Long-time readers will remember that my HG eyeliner — the MAC Liquidlast — was discontinued a couple of years ago. Lucky for me, a friend snatched up five tubes for me when she saw that her local department store still had them in stock…and they've lasted this long!
So I had no reason to seek out a replacement, until now.
Not only does the Milani Infinite come in a shade that is similar to the dark brown I used to use with the MAC Liquidlast, the formulation seems to be identical too…at least as far as I can tell. I threw away the box that came with the MAC so I can't compare the ingredients. But I can 100% say with confidence that the texture and longevity are EXACTLY the same.
One drawback to the Inifinite is that the color I use, Unlimited, isn't available in stores — at least the drugstores and grocery stores nearby me do not carry it. But who can beat the $5.59 pricetag? (For comparison, the MAC Liquidlast was about $20, if I remember correctly.)
Next up is another product from Milani…and another replacement for one of my HG beauty products. And it is the Milani Instant Eye Makeup Remover.
As you can see from the image above, the Milani Eye Makeup Remover seems to be a dupe for the much-loved Lancôme Bi-Facil.
The formulation is similar to the Bi-Facil in that it is dual-phase, which means that it is activated when shaken. I have read that Sephora also has its own dual-phase eye makeup remover that is similar to these two, but it costs $9.50 while the Milani costs a mere $5.99 at Cherry Culture.
The only thing I don't like about the Milani Eye Makeup Remover is its bottle. Because the entire top is open, it's easy to get too much of the stuff onto your tissue/cotton ball/cotton pad. I much prefer Lancôme's packaging, which features a small hole at the top of the bottle so that you can better control how much of the product gets dispensed at a time.
Last, but not least…is my current favorite sunscreen: the EltaMD UV Clear SPF 46.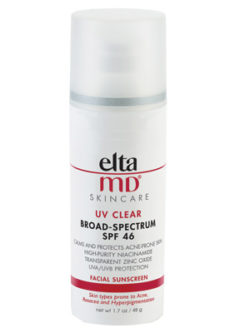 I decided to get a separate sunscreen for regular use after last summer, when I picked up a handful of new freckles from being out in the sun so much with the girls. (Before, I was content with the SPF that my other products provided.) Because I tend to sweat a lot and my t-zone gets pretty greasy in hot weather, I googled "best facial sunscreen for oily skin" and this popped up over and over in various beauty sites.
And it's for good reason, y'all, because this stuff rocks! As soon as I put it on it immediately sinks into the skin. If anything, it leaves my skin less shiny than before application! I also know that many dermatologists recommend this sunscreen for those with acne-prone and/or sensitive skin, so I feel safe using it.
So there you have it: three beauty products I've discovered recently and loving enough to want to share with the interwebs. Have you come across any new great products lately?