A couple of weekends ago, 14 friends and I gathered to try our hand at Murder at the Met scavenger hunt, hosted by Watson Adventures.
For those who are not familiar with Watson Adventures, they stage scavenger hunts in cities across the U.S. Some of the NYC hunts include The Gangsters' New York, The Ghosts of Greenwich Village, and The Wax Attacks (held at Madame Tussauds). Most of the hunts are targeted for adults (meaning the questions can be tricky/complex…not adult-themed, you sicko) but they hold family-friendly hunts as well.
I just HAD to try the Murder at the Met because, well, the Met is probably my favorite place in the city. One of my most memorable experiences was a summer internship at the Met, and although I'm a bit rusty now, I used to know the entire 5-blocks-sized building like the back of my hand.
We arrived to find that our Watson Adventures rep had already divided us into teams of four (and one group of three). Here's my fabulous team before we set off:
(All the pictures came out pretty badly because there is no flash photography allowed in the museum.)
Each team was given a yellow sheet of paper with a list of twenty-something questions. The yellow sheets were identical, but each team was instructed to start at different numbers. We were then given the background story:
A murdered curator has left behind a cryptic trail of clues connected with secrets in works of art. As your team gathers answers about the art, you begin to piece together a sordid tale about greed, lust, pride, revenge and treachery, all revolving around the museum's planned multi-million dollar purchase of a Rembrandt. The murder victim knew too much—and now it's your turn to learn what he knew and discover what drove one of four suspects to commit murder. To find out, you'll have to crack a secret code left in the victim's appointment calendar. Can you figure out who dunnit?
After additional instructions to meet at the Temple of Dendur in exactly two and a half hours, with warnings of "we'll be watching you!" and "no cell phones allowed!", we set off.
The rep had explained that The Murder at the Met was their most challenging hunt, and that was one of the reasons it had attracted me in the first place. I admit it – some of the questions were difficult, and running through the museum while dodging tourists and tour groups was tiring.
However, I knew my team would do well from the start. How could we not, with me on the team? 😉
We finished spectacularly with an hour to spare. Immediately my teammates demanded alcohol (okay, I wanted a drink too). I led them to the Petrie Court Cafe and Wine Bar, but it was closed for a private function. The travesty!
We then heaved and puffed our way up to the Balcony Bar, which has two entrances, very far from each other. After waiting on line for what seemed like an eternity at one entrance, the maitre'd informed us that there were no seats available on that side – would we like to try the other?
!!!
We practically ran to the other entrance, joking that trying to get a drink was the real scavenger hunt. After waiting on line behind some R-tards who couldn't decide where they wanted to sit, the maitre'd finally approached us and we screamed, "Just sit us near the bar!"
Our hard-earned sangrias and mojitos: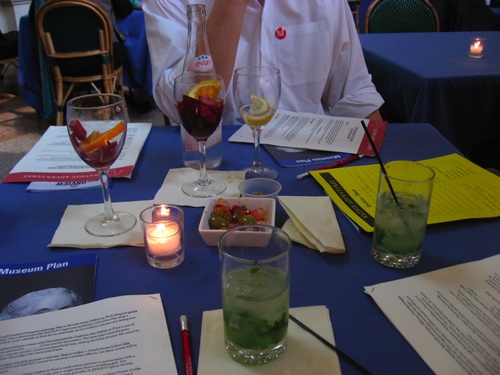 Another team pic:
Feeling refreshed and our alcoholic urges somewhat fulfilled, we sauntered to the Temple of Dendur, where one by one, all the teams converged.
Needless to say, my team won, with a perfect score. 😀
One last shot of the entire group:
Everyone agreed that the scavenger hunt was fun and very entertaining…we all want to do more hunts! I highly recommend Watson Adventures, and I'll certainly be doing more hunts in the future.
You may also like: