In the past, I used to be more comfortable with my bare face but after I hit my late 30s (I'm currently 42), I found myself reaching for face makeup more often. As such, I have tried tons of foundations — in various finishes, coverage, and price points. And while I recommended only one in year's Sephora spring sale post, I tend to rotate my foundations depending on my mood. And the following seven, in no particular order, are my all-time favorites. (Some of the linked products are affiliate links, meaning I get commission for purchases or clicks made through those links in this post.)
Pat McGrath Sublime Perfection Foundation, $69:
This foundation has light to medium coverage, with a natural finish that isn't too matte or too radiant. I use the shade Light 3 and on me, the sheer wash of color leaves a smooth, almost-airbrushed look. It isn't the longest lasting or transfer-proof but with primer, I can make it last the whole day. It has remained one of my favorite foundations since its debut in 2020.
Armani Beauty Luminous Silk Perfect Glow Flawless Oil-Free Foundation, $69
It seems like the Luminous Silk foundation has been around for ages, and now that I've looked up its release date (the year 2000), it practically has, in the fast-evolving world of makeup. I still remember driving to Tysons Corner from Baltimore when I was in college to pick up a bottle of this foundation for the first time.
I stopped wearing this foundation in my mid-to-late twenties, but in the past few years have I started to love it again. It is a cult favorite for a reason — it doesn't just cover, it evens everything out and gives my skin a flawless finish without being heavy. I wear the shade 3 and it leaves just such a pretty finish to my face.
Dior Backstage Face & Body Foundation, $43
This is the foundation I turn to when I want something akin to a skin tint. The coverage is sheer but can be built up to medium, and out of all the foundations on this list, this is the least heavy feeling with a very natural finish. I wear the shade 1W and it usually lasts the whole day for me.
Tom Ford Shade and Illuminate Soft Radiance Foundation, $150
I wish this foundation weren't so expensive, but even at this price point it makes this list because I think it's worth the money. The Nordstrom product page describes it as a "medium- to full-coverage foundation with three-dimensional radiance that reflects soft light" and it couldn't be more apt. There's something about this formula that leaves a softly radiant finish to your skin that you can't replicate with highlighter or finishing powder. I wear the shade 1.1 Warm Sand and it leaves a luminous, perfected look to my skin that's simply divine.
Nars Light Reflecting Advanced Skincare Foundation, $50
This is another medium coverage foundation with a natural finish. It leaves a beautiful finish that just makes your skin look healthy. I'm not too sure about the claimed skincare benefits but even if they're nothing but marketing gimmicks, I would still love this foundation. I wear the shade L3 Gobi and it always imparts such a smooth, softly glowing look to my skin.
La Mer The Soft Fluid Longwear Foundation, $145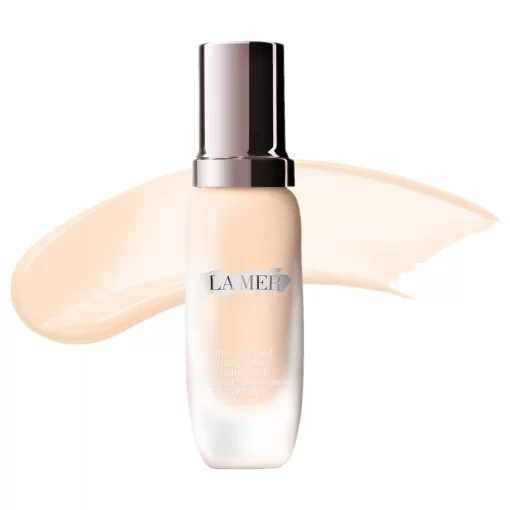 Here is another expensive foundation that, IMHO, is totally worth the price. The coverage is sheer to medium with a very skinlike finish. It supposedly contains the La Mer "broth" that is the hallmark ingredient to its skincare products, so it's a foundation and skincare in one. I wear the shade 130 Warm Ivory and every time I wear it, I feel like I'm having a good skin day.
Laura Mercier Real Flawless Weightless Perfecting Foundation, $48
This foundation is probably the longest-wearing of all the foundations on this list. And like most on this list, it is a medium-coverage foundation with a natural finish. The name says weightless and it does feel like practically nothing on the face. I wear the shade 0W1 Satin and every time I wear this foundation, my skin looks airbrushed and blurred.
What are your favorite foundations at the moment? Do any on this list make it to your list of favorites?
Next time, I'll list my favorite concealers!
You may also like: