Three. More. Days.
Can you tell I'm excited? Enjoy these illustrations by Denis Medri!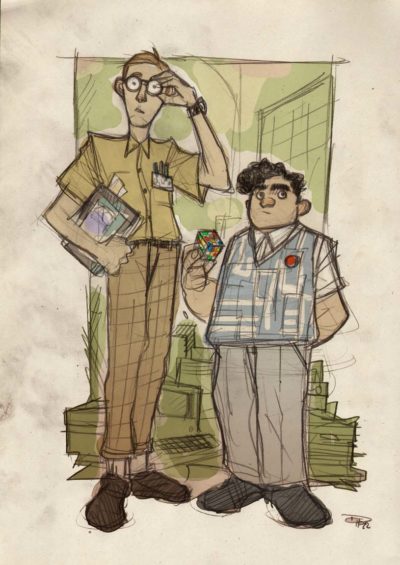 You may also like: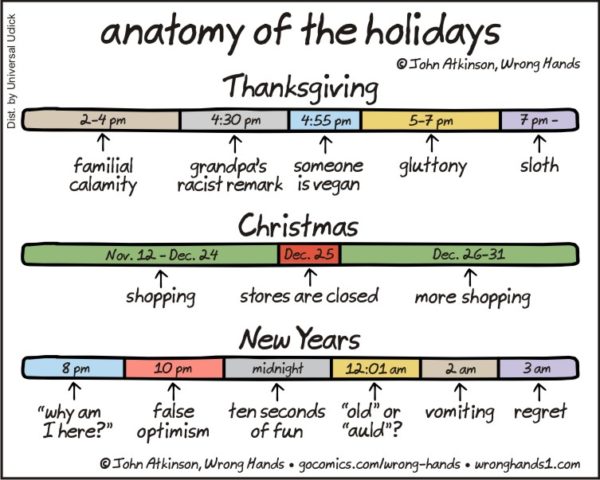 Via Wrong Hands.
You may also like:
Via Reddit.
You may also like:
Remember when I imagined curating my own Asian beauty box?
Well, that dream has become a reality!
Shortly after publishing that post, my friend Sunny reached out to me with a proposal: why not form a Korean beauty subscription box service?
At first, I wanted to laugh. This had to be a joke, right?
But the more I thought about it, the more it made sense. With our collective passion for Korean beauty products, my technical skills and her business acumen, we would make one heckuva team. Besides, Korean beauty is everywhere these days…we might as well strike while the iron's hot, right?
After mulling over the idea with some friends to gauge interest, we even had a way to set our company apart from the rest — by offering boxes by skin types!
And so Jini Beauty was born.
We are still in the pre-launch phase, with plans to release our first box in early 2016. If you are interested, please stop by the site and sign up for email updates!
You may also like:
We all know that what made us happy as children may no longer apply. But is it just a matter of our tastes changing?
Social psychologist Jennifer Aaker, PhD, theorizes that your happiness is not based on your likes and dislikes, but rather, the motivating forces that drive you. Our definition of happiness tends to shift every 5 or 10 years, evolving through 5 basic "chapters" throughout our lives.
The first chapter lasts through your childhood and teen years, where happiness is found through discovery and excitement. You gain happiness by understanding the world around you.
Most people go through the second and third chapters through their 20s and 30s, where pursuit and balance become the primary motivators in their lives. For example, success in your career may help fill your bucket in your 20s, while settling down and maintaining your health is what makes you the happiest in your 30s.
Then our sources of happiness make a selfless turn. The fourth chapter revolves around meaning — caring for others, and finding contentment in what you already have. I know that this is certainly the case with my own parents, who are continually thankful for their blessings despite the hardships they endure, and seem to be the happiest when they are able to help out their family and friends.
The last and final chapter is a tranquil stage, where most people derive joy from feeling fulfilled and connected. From savoring their life experiences, memories, and relationships. From feeling calm, lucky, and blessed.
You can watch a video where Dr. Aaker describes each chapter below. In it, she and her colleague argue that we cannot always choose to be happy, but we can change the meaning of happiness.
Personally, I believe am firmly planted in the third chapter of the happiness journey right now — balance — because I'm all about stability these days! Anything out of the norm shakes me up a bit, and new endeavors downright scare me.
BUT…
I am happy to announce that I am currently working on a new project. A business venture. I won't go into details right now, but it has to do with Korean Beauty and I'm pretty confident it will be successful. It's a risk, to be sure, but a worthwhile one.
And just as Dr. Aaker states, I am changing my meaning of happiness. I am adjusting the rewriting my chapters in an effort to become the author of my own story. I am scared, but happy.
Via Refinery29.
You may also like:
My Claire Bear turns five years old today. FIVE.
…I still can't believe I've kept a human being alive for this long.
Happy birthday, my dear Claire. I wish for you a fun, memorable birthday filled with love and excitement. May you never lose your curiosity, sense of wonder, and zest for life. Umma loves you very much and will always be here for you, through thick and thin.
You may also like:
During the Korean War, Korean artist Woonbo Kim Ki-chang began a series of ink paintings depicting the life of Jesus using his own country as the backdrop. "I was praying for the quick end of the Korean War and a unified peace, and soothed my painful mind with a paintbrush," he later said.
Kim passed away in 2001, but his work was featured at a museum in Seoul in 2013. The paintings are by no means historically or Biblically accurate, but are meant to symbolize the fact that Jesus came for all cultures and ethnicities. Some have called these painting "shameless," but I love the transcultural depiction of God in them. What do you think?
The Annunciation:

The Nativity:

The Adoration of the Magi:

You may also like:
If you're friends with me on Facebook, you may have noticed that I'd had a bit of baby fever lately.
Say what?
Me? The girl who hates the baby years and never looks back on her children's infancies with nostalgia?
What happened?
Well, for one, my friends and relatives keep having ridiculously cute babies and I don't mind at all that they clutter my social media feeds with baby pictures and stories.
Then there's the fact that my girls, who will be turning 5 and 4 soon, are evolving into pretty awesome individuals who increasingly amaze me with their creativity, wit, and lively personalities. They're getting along better, they make each other and the people around them laugh, they're cooperative, and they're both so smart. I'd helped create two such astounding people — so why not another?
I've seriously been considering having another baby. I kid you not.
And J is totally on board. He loves kids and if he had his way, we'd have an entire basketball team.
But then a conversation with friends helped me realize something. (Thanks, G&J, if you're reading this!)
The main reason I am considering having another kid is because my life is so good right now.
In addition to my children who are now more independent and generally easier — downright enjoyable at times! — there's also my relationship with J, which is pretty darn wonderful these days. We make time for each other, we make each other laugh, and we help keep each other accountable.
We've become one of those insufferably happy couples that make you want to gag. And I think to myself, several times, every day, "How lucky am I?"
J even blurted out during dinner the other day — completely out of the blue — "I like our family."  😀 
Because I am so happy with my family, I am selfishly wanting to expand it so that my happiness could be even greater.
So would bringing another child into the fold make things even better? Probably not for another couple of years, at least — didn't you hear that parenthood is tougher on your well-being than divorce, unemployment, or even the death of a partner?
But yes, the fever is there and it's real. I'm just not sure if those difficult baby years would be worth it.
You may also like:
In 1982, Marvel published a "What If?" #34 — a humor issue devoted to hilarious, sometimes disastrous scenarios that could have been in the Marvel universe. Here are some scans from the issue. Enjoy!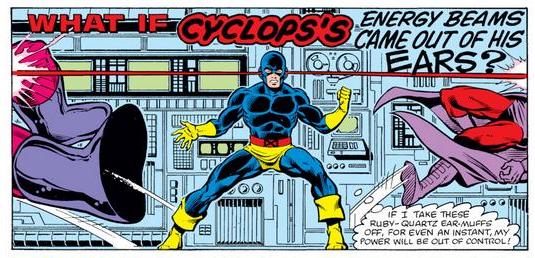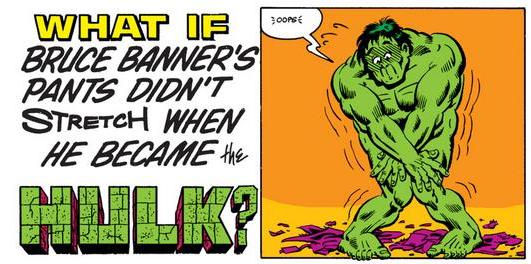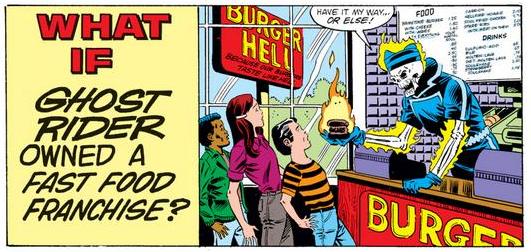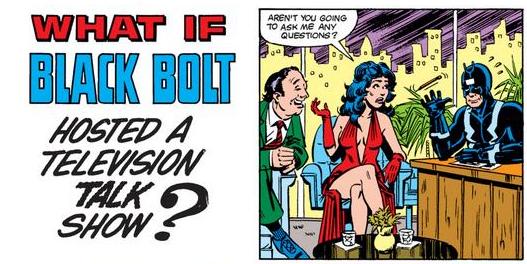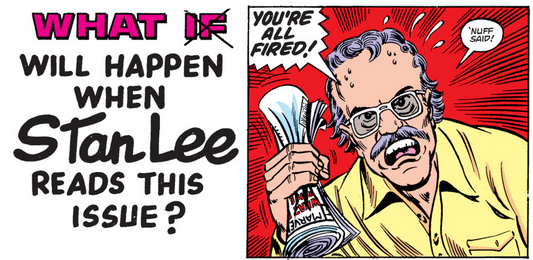 Via Reddit.
You may also like:
Twitter user @strnks has dreamed up a dark and twisty alternate ending to the show Friends:
My proposal for how hit 90s TV sitcom Friends should have ended. pic.twitter.com/S7D3j2E3z5

— Xenophon Moscrop (@strnks) August 24, 2015
In case you can't read/make out what's in the embedded image, it says:
I'd have ended Friends by revealing it was all the meth-addled fantasy of a homeless Phoebe as she stared through the window of Central Perk.
Every kooky aside, every episode she made everything about her, every instance of how much of an outsider she was… it all makes sense. All 10 seasons were merely her fevered imagination, projecting herself into the lives of the other 5. All she ever wanted was… Friends.
The final scene would be Phoebe walking away from Central Perk, with the Ross, Rachel, Joey, Chandler and Monica characters making a reference to "the crazy lady who always stares at us". They all have different names and personalities.
Phoebe walks past a furniture store and catchers her reflection in a mirror placed in the window. The name of the store? "Ursula"
Finally she returns to the park where she sleeps in front of the fountain. A broken lamp stands next to her bench. It starts to rain. From behind, we see her put up six dirty, but brightly coloured umbrellas.
Fade to black.
Could that be any more depressing?
And…would that mean Mike really was a bag of crap?
You may also like: